Sharon, PA has many activities to experience. From our famous WaterFire celebration to other community events that feature fireworks, there is something for everyone to enjoy. This blog will cover all of the details you need to know to have a great time and take in the sights of Sharon, PA. Let's discover what makes these events extraordinary!  
Request Our Free Vacation Guide!
For even more ideas for the perfect Mercer County, PA vacation, be sure to get your copy of our FREE Vacation Guide! This guide is tailored to your vacation needs, featuring local attractions and activities. 
WaterFire Sharon, PA (July & September)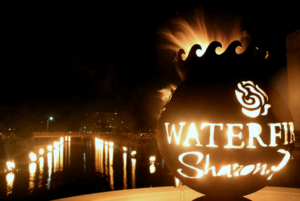 Attend WaterFire Sharon, PA! This event is an annual celebration in Sharon, PA, featuring art, music, and a fire performer. Spectators will love the 55-lit braziers floating in the river and the fire show starring Jimmy Pyro. He is known for displaying his incredible talents during his fire show. No trip to Sharon, PA, would be complete without exploring WaterFire! 
Sharon, PA Fireworks
St. Patrick's Day Parade (March)
Celebrate St. Patrick's Day in Sharon, PA! The St. Patrick's Day Parade event is a great way to meet locals and explore downtown Sharon, PA. There will be marching bands, Irish dancing, award announcements, and fireworks! Wear your best St. Patrick's Day attire, and get ready to have some fun! 
The Shenango Riverfront Fireworks Celebration (July)
What better way to celebrate America's birthday than attending the Shenango Riverfront Fireworks Celebration? This event is another excellent opportunity to explore downtown Sharon, PA, try delicious dishes, and explore the riverfront area. There will be activities all evening, so be sure to take a stroll around and participate in all the festivities!
Small Business Saturday (November)
Small businesses make every community special. In Sharon, PA, our Small Business Saturday celebration is more than just shopping local. There will be a holiday pop-up shop, Christmas tree lighting, and plenty of cheer to go around! Head out with your special someone and relish in the sights and sounds! Review our local events calendar for more event information. 
Tara – A Country Inn Offers Easy Access to All of These Events!

Tara – A Country Inn is your ideal sanctuary when you visit! Our building is a Greek revival-style mansion built in 1854 featuring gardens, and plenty of luxurious amenities.  Our rooms feature an old-world feel and are sure to keep you comfortable and relaxed. Each has unique features and offers all of the comforts you're looking for. In addition to their luxurious accommodations, guests can enjoy a meal at Stonewall's Tavern and grab a drink at Atlanta Lounge. The southern charm will surely keep you relaxed during the evening. We also have packages to make your trip even more special! From romantic getaways to corporate retreats, we offer the perfect destination. Book Your stay with Tara – A Country Inn, and get ready for the perfect western Pennsylvania getaway!